The Situation
Erdogan's ruling Justice and Development Party was swept back into office in a November election, regaining the parliamentary majority it lost in an inconclusive vote in June. Since then, Turkey has resumed its war with Kurdish separatists and suffered a wave of terrorist attacks. With voters returning to the stability of single-party rule, Erdogan is better placed to push through planned constitutional changes to introduce a presidential system and cement his control over the government, the military and the courts. Erdogan is battling to defend his inner circle from corruption allegations that erupted in late 2013; he responded to a graft probe by purging the police and the judiciary. Opponents were accused of an attempted coup and loyalty to Fethullah Gulen, an Islamic cleric and government critic in self-imposed exile in the U.S. Dozens of journalists have been detained and in March a court replaced the management of the nation's biggest newspaper, sparking street protests. The government has widened oversight of the Internet and blocked access to Twitter and YouTube at times, drawing criticism from the EU and the U.S. The central bank has faced political pressure to cut interest rates to revive a stagnating economy, raising questions about its independence. The opposition is fractured, though rising unemployment has fed support.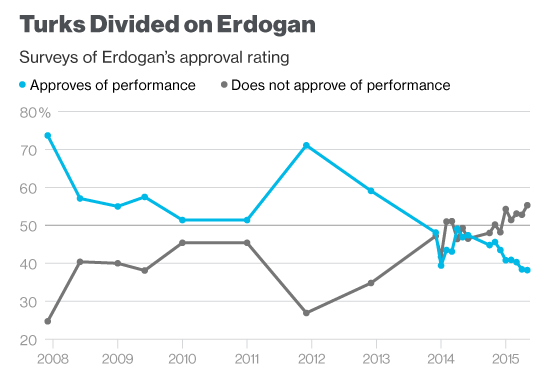 The Background
Turkey's relations with Europe have been antagonistic at times. The armies of Suleyman the Magnificent laid siege to Vienna in 1529. The Ottomans did so again in 1683, and occupied much of the Balkans until the end of World War I. Western influences were strong from the 18th century onward, leading to Ataturk's reforms in the 1920s — which included forsaking a Perso-Arabic script used for 1,000 years and the adoption of the Latin alphabet. Ties were tightened in the years that followed. Turkey has been part of NATO since 1952 and an associate member of the EU since the 1960s. Efforts to become a full EU member have floundered since negotiations started in 2005. Erdogan forged closer links with Middle Eastern countries, which took an increasing share of Turkish trade as European economies slumped. He lifted curbs on religious expression, such as the wearing of headscarves, put in place when the army was Turkey's dominant political force. By giving a voice to an underclass of Islamic conservatives, Erdogan is rolling back Ataturk's secular legacy in favor of what he says will be a "pious generation." Erdogan isn't shy about his ambitions: He has built a presidential palace four times the size of Versailles.
The Argument
Opposition groups denounce Erdogan as an increasingly autocratic leader. His clampdown on the media and the Internet is seen as a step back for the kind of civil liberties that would be a prerequisite to joining the EU. Yet many voters still admire Erdogan for building hospitals and schools in Turkey during his party's 13-year rule, the longest period of political stability since the nation adopted a multiparty system in 1946. He remains popular among poorer Turks whose living standards have risen. The country's annual economic growth has averaged 5 percent during Erdogan's control, with foreign investors pouring about $50 billion into Turkish stocks and bonds since 2006. The scandals have exacerbated the economic slowdown and required Turkey to increase interest rates to stem an outflow of capital. They have also exposed rifts among the Islamist groups that first swept him to power.
The Reference Shelf
First published Jan. 28, 2014
To contact the writers of this QuickTake:
Onur Ant in Ankara at oant@bloomberg.net
Caroline Alexander in London at calexander1@bloomberg.net
To contact the editor responsible for this QuickTake:
Leah Harrison at lharrison@bloomberg.net