The Situation
After stating in 2015 that it was unable to pay its borrowings, Puerto Rico's government began talks with creditors and turned to Washington for help. Two agencies defaulted before the commonwealth proposed a voluntary plan in February to slash the debt load almost in half by repaying 39 to 72 cents on the dollar. Puerto Rico then upended months of negotiations by passing a debt-moratorium law that allows Governor Alejandro Garcia Padilla to suspend through January 2017 payments to investors on a wide swath of bonds. The island faces a $2 billion bill for principal and interest payments on July 1. Under federal law, states can authorize bankruptcy filings by their municipalities, including public utilities, but Puerto Rico can't. The U.S. Congress is struggling with a bill that could allow Puerto Rico to restructure its debt and implement a federal oversight board that would weigh in on the commonwealth's budgets. In March, the U.S. Supreme Court heard arguments on whether Puerto Rico can reinstate a local law that would give its utilities additional leverage in talks with lenders; a decision is expected by June. The island's plight affects most people with a mutual fund invested in the municipal bond market. Unlike the bonds of most states and municipalities, Puerto Rico's are exempt from local, state and federal taxes everywhere in the U.S. As a result, they are held by about half of open-end muni funds. The competitive advantage made it easy for Puerto Rico to double its debt in 10 years by selling bonds to plug annual budget deficits and pay for operating expenses — the same combination that brought New York City to the brink of bankruptcy in the 1970s.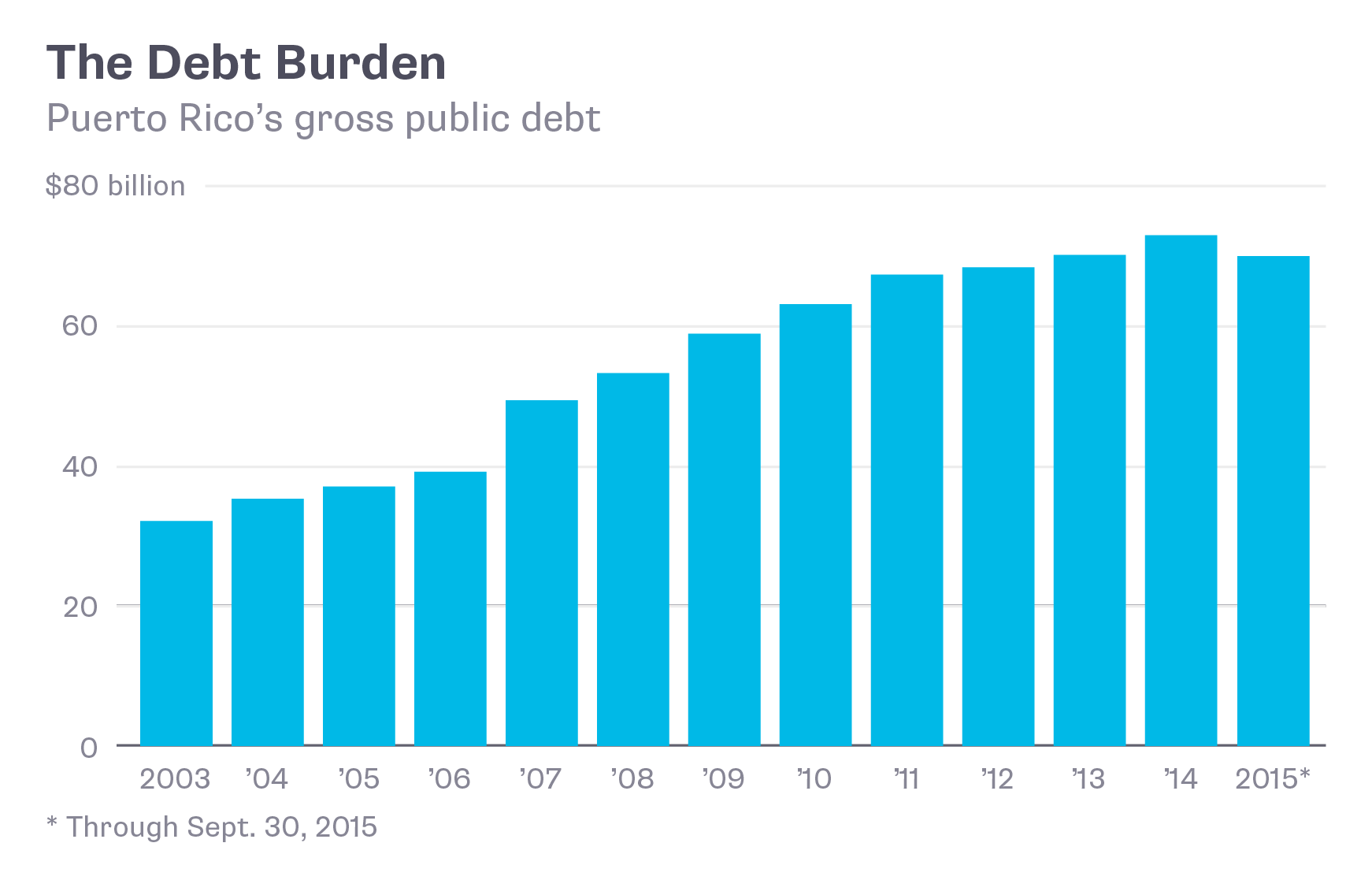 The Background
Wall Street smoothed the island's path to fiscal debacle, reaping more than $900 million in fees to manage Puerto Rico's $126.6 billion of bond sales since 2000. After the U.S. territory adopted a sales tax in 2006, investment banks worked with officials in San Juan to create new bonds backed by a portion of the proceeds. These helped the government, which employs more than a quarter of the workforce, put off cuts. Puerto Rico, ceded to the U.S. in 1898 after a war with Spain, has a special tax status that dates to 1917 and the passage by the U.S. Congress of the Jones-Shafroth Act. It has relied on tax breaks to drive economic development, attracting pharmaceutical, textile and electronics companies. The U.S. phased out the incentives from the mid-1990s to 2006, contributing to the loss of 80,000 jobs. Since 2006, the island's economy has contracted every year except one and its poverty rate is now almost double that of Mississippi, the poorest state. The population, now about 3.5 million, is shrinking and forecast to reach a 100-year low by 2050.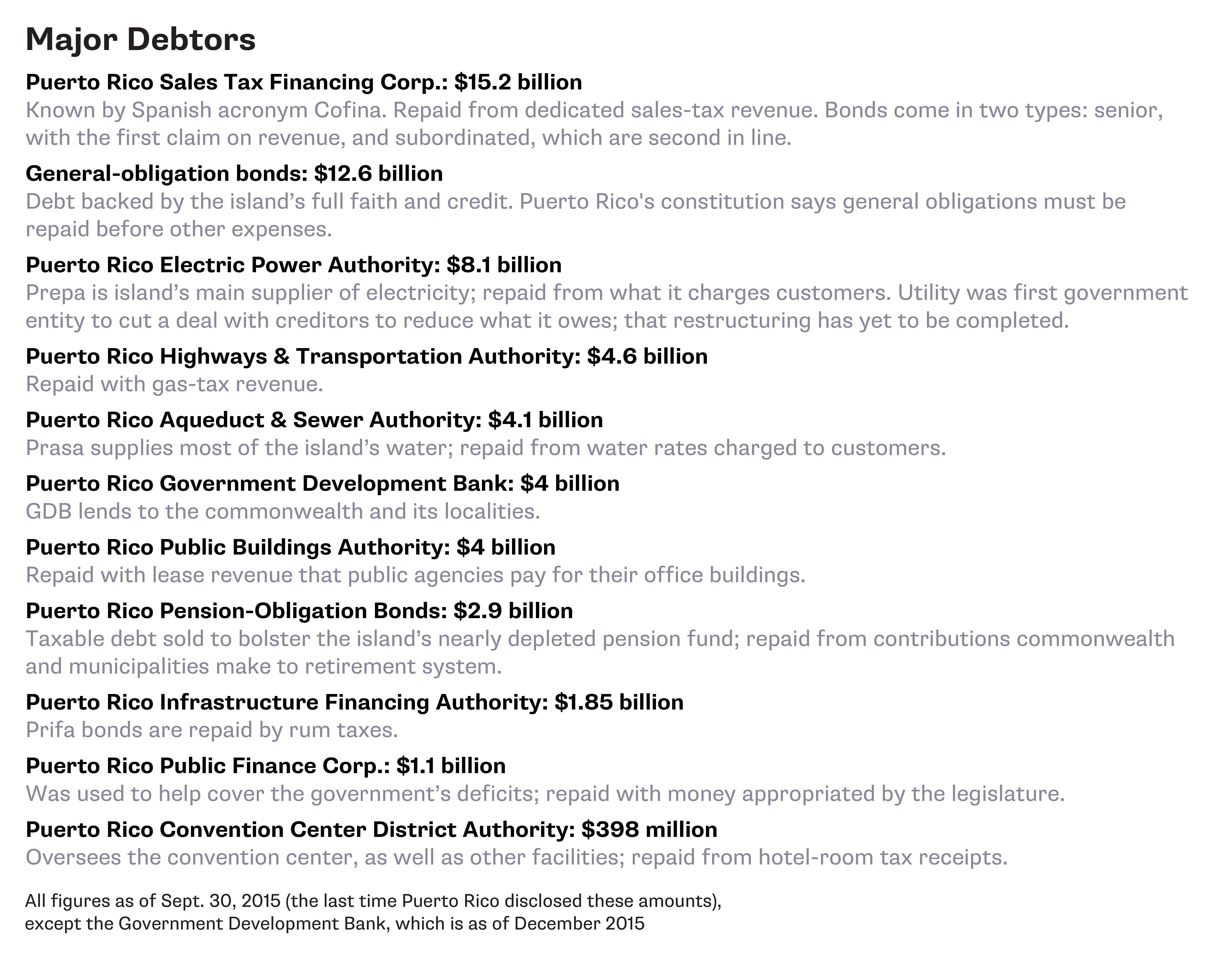 The Argument
Republican lawmakers say a control board could make the politically unpalatable decisions Puerto Rico needs to repair its public finances. The island-wide government pays for schools and education — items normally handled by local communities in the states — and agencies that provide water and electricity are intertwined with the territory's funding. It's already closed scores of schools and proposed tightening an inefficient tax collection system, though critics say it hasn't done enough. The Obama administration and Puerto Rico's Governor Alejandro Garcia Padilla say federal oversight must be paired with a plan to give the island access to an orderly bankruptcy process that would help cut its liabilities and avoid protracted litigation. Bond investors and insurers oppose the move because it could force them to take losses; the conservative Heritage Foundation characterizes it as a bailout. There's concern that allowing Puerto Rico to use a court-ordered reorganization without a control board would fail to address the island's budget imbalances and overdue financial reports.
The Reference Shelf
First published Feb. 11, 2014
To contact the writers of this QuickTake:
Michelle Kaske in New York at mkaske@bloomberg.net
Martin Z Braun in New York at mbraun6@bloomberg.net
To contact the editors responsible for this QuickTake:
Anne Cronin at acronin14@bloomberg.net
Leah Harrison at lharrison@bloomberg.net