The Situation
In late 2015, researchers reported the discovery of a freshly evolved gene capable of neutralizing the strongest antibiotic drugs. Apparently arising from the agricultural use of antibiotics in China, the gene uses a mechanism that will allow resistance to spread more quickly than ever. Under a U.S. Food and Drug Administration voluntary plan, all revelant drug companies have agreed to relabel antibiotics, making their use contingent on a veterinarian's prescription. The state of California adopted an outright ban on giving the drugs to healthy animals in 2015. The European Union imposed one in 2006. Among the fast-food chains that have announced policies to reduce the use of meat from animals raised with antibiotics are Chipotle, Panera Bread and McDonald's. Tyson Foods, the biggest seller of chicken in the U.S., announced it would eliminate the use in healthy birds of antibiotics that are also used by humans by September 2017. Health officials report some success in campaigns to limit inappropriate use by humans. One study concluded that while total global consumption of antibiotics grew by 36 percent between 2000 and 2010, use was stable or fell moderately in most wealthy countries. Most of the growth was in poorer nations, where antibiotics are often given as a substitute for public-health measures. On another front, the FDA is considering requiring companies to prove the effectiveness and safety of antibacterial hand washes, arguing that they don't improve health and may be contributing to resistance.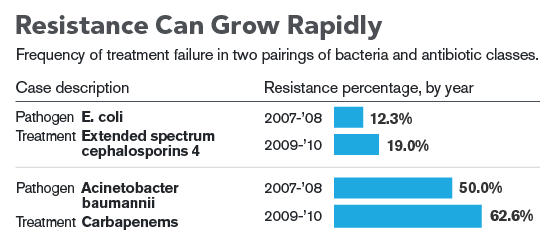 The Background
Bacteria are constantly mutating, and some change in ways that let them survive a particular treatment. Repeated exposure leads to more of the resistant bacteria. The antibiotic era in animal agriculture began in 1946, when researchers noted that chickens fed low doses of the drugs grew faster. Antibiotics have become a crucial part of factory farming – animals in cramped conditions would be vulnerable to infections without daily doses of the drugs. In 1972, an FDA task force warned that antibiotic-resistant microbes in animals could be passed to humans. For decades, the livestock and pharmaceutical industries successfully fended off regulation, arguing that little correlation could be drawn between antibiotics used in agriculture and resistant infections in humans. Health officials have become increasingly skeptical of that claim amid mounting contradictory evidence. The increasing prevalence of counterfeit antibiotics certainly feeds resistance. Meanwhile, the number of large drug companies developing new antibiotics dropped to four in 2014 from 20 in the late 1990s.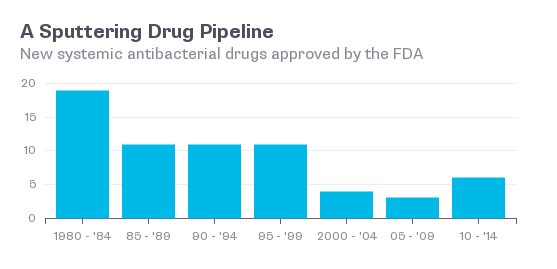 The Argument
The FDA says its voluntary relabeling strategy will reduce antibiotic use in livestock faster than a ban that would take years to push through. Industry groups such as the American Meat Institute applauded the voluntary approach. Some consumer advocates criticized the plan as a hollow gesture. Because farmers can still use antibiotics to prevent disease, meaningful change is unlikely, a 2013 study concluded. EU officials say they have seen some decline in the use of antibiotics since the 2006 ban, though the effect has been muted by higher rates of illness when herds aren't taking them to promote growth. Denmark put a ban in place earlier and has seen a bigger drop — partly because farmers learned that they needed to raise their animals in healthier conditions once they weren't getting a daily dose.
The Reference Shelf
(

This QuickTake includes a corrected reference to the relative importance of the discovery of antibiotics.

)
First published March 13, 2014
To contact the writer of this QuickTake:
Anna Edney in Washington at aedney@bloomberg.net
To contact the editor responsible for this QuickTake:
Lisa Beyer at lbeyer3@bloomberg.net