Jens Weidmann, head of Germany's central bank, called on British businessmen yesterday to remember the wishes of Winston Churchill and help keep their country part of the "European family." Judging from the U.K.'s dwindling representation in Brussels, it may already be too late.
Fears about a U.K. exit from the European Union have centered on political landmarks: The xenophobic and anti-EU U.K. Independence Party's success in the recent European Parliament election, Prime Minister David Cameron's humiliating defeat in his battle to prevent federalist Jean-Claude Juncker from taking the top job at the European Commission, Cameron's promise to hold a "Brexit" referendum in 2017 if his Conservative Party remains in power.
Meanwhile, a quiet exit is already taking place.
The British Bankers' Association recently studied the European Commission's staffing statistics and came to the conclusion that the U.K. was drastically underrepresented. The proportion of British bureaucrats above assistant level has dropped to 5.3 percent in 2014 from 9.6 percent in 2004. In the Directorate-General for Internal Market and Services, the share of Britons is just 3.5 percent.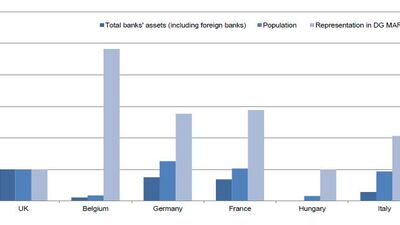 This concerns the BBA because the EU is increasingly active in regulating financial markets. The U.K. government is loath to hand power over London markets to EU agencies -- the European Securities and Markets Authority is based in Paris, of all places! Although European bureaucrats are not supposed to favor their countries, the BBA worries that they can't help it.
The U.K. could make up for the lack of lower-level pencil-pushers with its relative advantage in the top ranks: Among the 36 directors general of European Commission departments, five are British. Only France has as many. Germany, in the Angela Merkel tradition of quiet leadership, has seven deputy directors general. The U.K.'s high-level advantage, however, is only temporary: "Many of the highest-ranking British officials are nearing retirement age and there is a lack of U.K. staff in the Commission to replace them," the BBA points out.
Other countries, such as Germany, have special training programs for future eurocrats. In 2010, just as Gordon Brown was about to hand over to Cameron, the U.K. revived a program of its own, called European Fast Stream. It has not since sent a single public servant to Brussels. Of the 14 graduates who joined the program in 2010, only one passed the required tests and was put on the reserve list, but ended up taking a different job. Brussels and its sprawling bureaucracy are so unpopular in the U.K. that the best people do not see working there as a promising career.
Churchill's call for building "a kind of United States of Europe" contained a qualifier: In 1946, Britain's wartime leader spoke of the need to "re-create the European Family, or as much of it as we can." Perhaps the U.K. simply doesn't belong in that family: There isn't enough interest to maintain membership on an organizational level.
This column does not necessarily reflect the opinion of Bloomberg View's editorial board or Bloomberg LP, its owners and investors.
To contact the author on this story:
Leonid Bershidsky at lbershidsky@bloomberg.net
To contact the editor on this story:
Mark Whitehouse at mwhitehouse1@bloomberg.net