My morning reads to start off your workweek:
• 'Smart Beta' Investing Lets the Yardstick Pick the Stocks (NY Times)
• Investors want companies to start spending again. Companies have other ideas, says S&P (MoneyBeat) see also Stocks' Biggest Gains Are an Inside Job (MoneyBeat)
• Swagger: Alpha (AI-CIO)
• Zweig: Huge Returns at Low Risk? Not So Fast (MoneyBeat)
• I'm Shocked, Shocked, to Find Us in a Low Vol Environment (FT Alphaville)
• Are Fuel Cells the Solution to American Cities' Energy Woes? (Slate)
• Why the iPhone 6 -- not the iWatch -- Is Apple's Biggest Launch This Year (Quartz)
• Tim Cook and Apple Celebrate #ApplePride in San Francisco Today (9 to 5 Mac) see also John Browne, Former Chief of BP, on Being a Closeted Executive (NY Times)
• The New Warmal: Global Temps Break Another Record (Bloomberg)
• The 10 Best 24-Hour Restaurants in New York (NewYork.com)
What are you reading?
U.S. Versus Europe Industrial Production Updates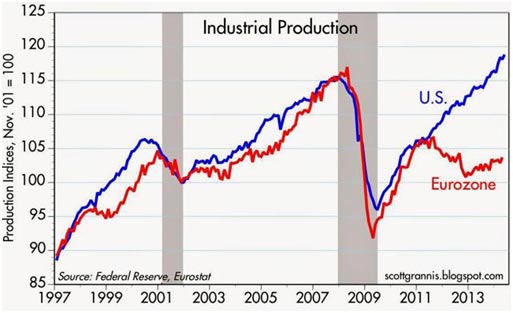 This column does not necessarily reflect the opinion of Bloomberg View's editorial board or Bloomberg LP, its owners and investors.
To contact the author on this story:
Barry L Ritholtz at britholtz3@bloomberg.net