The scandal over alleged secret waiting lists at the Department of Veterans Affairs is many different stories at once: human capriciousness, bureaucratic collapse, political brinkmanship. But it is also, unavoidably, a story about money -- specifically, whether the VA has enough of it to spend on veterans' care.
As Bloomberg View wrote in our editorial yesterday, at first glance the answer seems as if it must be yes. Here's the agency's annual funding from 2003 to 2013:
But as that funding increased, so did the number of disabled vets. This next chart shows the growth in the number of so-called Priority 1 veterans -- those with the greatest level of disability -- treated by the VA each year.
As the agency's own figures show, the growth in spending on those vets wasn't quite enough to keep pace with their increasing numbers. Look at annual spending per Priority 1 patient through 2012, the latest year for which the agency has released data.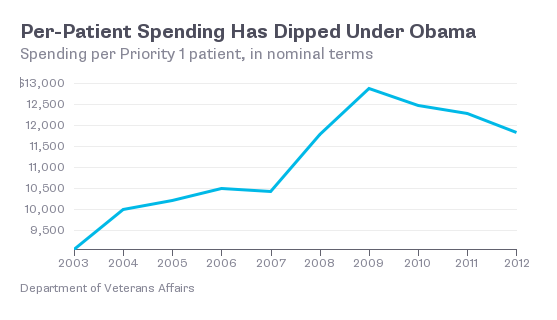 Those figures don't tell the whole story. As spending per patient slowed, and then fell, the broader cost of health care continued its rapid ascent. Here's the change in spending per Priority 1 patient, compared with the change in the cost of employer-sponsored insurance over the same period -- a proxy for the rise in health-care costs on the private market.
And those figures are in nominal dollars. When adjusted for inflation, the drop in per-patient spending at the VA becomes even more pronounced. This chart shows that real spending per Priority 1 patient is now lower than it was in 2004.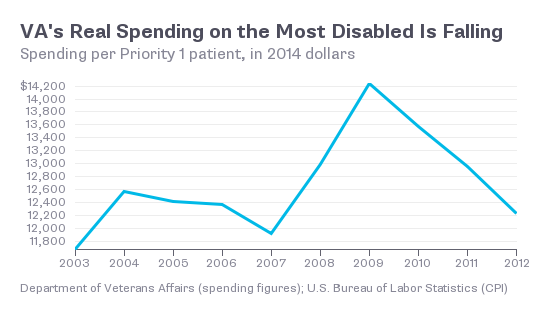 There are two possible interpretations of these figures -- assuming they're true, that is. (The data used for these charts can be found on the website of the VA's National Center for Veterans Analysis and Statistics.)
One interpretation is that the Department of Veterans Affairs is vastly more efficient than the rest of the U.S. health-care sector, and has used that efficiency not just to control per-patient costs for the most disabled vets, but even to reduce them in real terms without sacrificing quality or access. If that's what's going on here, then we should scrap Obamacare and put everyone under the VA.
A more realistic interpretation is that even with more funding, the agency is struggling to keep up with a rapid increase of veterans with serious medical needs. That doesn't excuse the alleged decision by some of the agency's staff to lie in order to hide wait times that were longer than they were supposed to be. But it forces the question of why those wait times were so long in the first place.
This column does not necessarily reflect the opinion of Bloomberg View's editorial board or Bloomberg LP, its owners and investors.
To contact the author on this story:
Christopher Flavelle at cflavelle@bloomberg.net
To contact the editor on this story:
Stacey Shick at sshick@bloomberg.net