Friday morning! Let's start counting hours:
• 'If the Euro Falls, Europe Falls' (FT)
• Cassidy: How Do Hedge Funds Get Away With It? Eight Theories (New Yorker) see also Why are Hedge Fund Assets Reaching All-time Highs? (All About Alpha)
• The Apotheosis of David Tepper (Reformed Broker)
• Millennials are not stock-market fans, but Charles Schwab sees them coming back -- eventually (The Tell) see also A Guide for Young People: What to Do With Your Life (ZenHabits)
• No, American Entrepreneurship Is Not Dying (fivethirtyeight)
• The Leaked NY Times Innovation Report Is One of the Key Documents of the Media Age (Nieman Lab)
• Five Horrifying Maps of America's Massive Drought (Vox) see also If Your Food Was Genetically Modified, Would You Want to Know? (The Atlantic)
• "It's not worth it anymore. I wish the Americans would stop with this legalization." -- Mexican Pot Farmer (Liberty Blietzkrieg)
• The Ten Most Powerful New Cars With A Manual Gearbox (Jalopnik)
• The 21 Greatest Graduation Speeches of the Last 50 Years (Vox)
Any big plans for the weekend?
Bear Market Won't Start Until Yield Curve Says So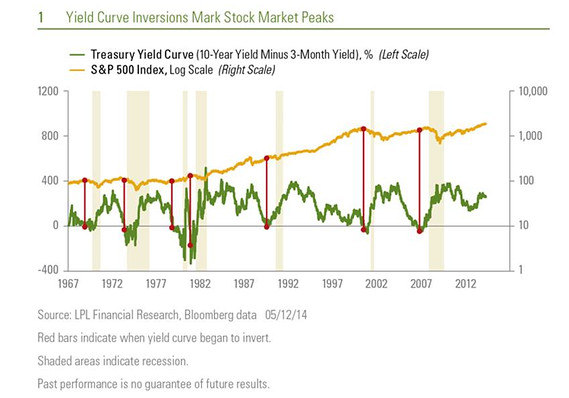 This column does not necessarily reflect the opinion of Bloomberg View's editorial board or Bloomberg LP, its owners and investors.
To contact the author on this story:
Barry L Ritholtz at britholtz3@bloomberg.net