Good morning. Here is some reading to start off your workweek:
• Jobs Report: Back to Where We Started (FiveThirtyEight)
• Quack Quack: Demand, Meet Supply. (Reformed Broker)
• The Future for Real Interest Rates (Gavyn Davies)
• Apple's Deep Pockets: What $159 Billion Could Do (Bits)
• Hedge Funds Get Gold Timing Wrong on Rebound (Bloomberg) see also The Fall of Gold (QuickTake)
• When CEOs Matter (stratēchery)
• Michael Lewis's Crusade (NY Times) see also How NYSE, Nasdaq Profit Off 'Flash Boys' (NY Post)
• Why UPS Trucks Don't Turn Left (Priceonomics)
• Insult and Injury: How Doctors Are Losing the War Against Trolls (BuzzFeed)
• Ezra Klein: How Politics Makes Us Stupid (Vox)
What are you reading?
U.S. Reaches a Milestone on Lost Jobs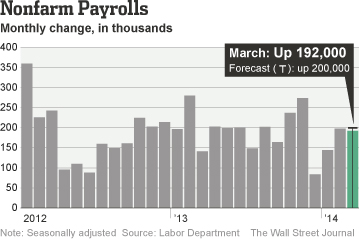 This column does not necessarily reflect the opinion of Bloomberg View's editorial board or Bloomberg LP, its owners and investors.
(Barry Ritholtz writes about finance, the economy and the business world for Bloomberg View. Follow him on Twitter @Ritholtz.)
To contact the author on this story:
Barry L Ritholtz at britholtz3@bloomberg.net