Mario Draghi has finally dropped to his knees in the Church of Quantitative Easing. Unlike the priests from the Federal Reserve, the Bank of Japan and the Bank of England, he can't quite bring himself to offer up his prayers -- but he's getting closer.
Here's a Wordle of Draghi's prepared remarks delivered after yesterday's European Central Bank meeting: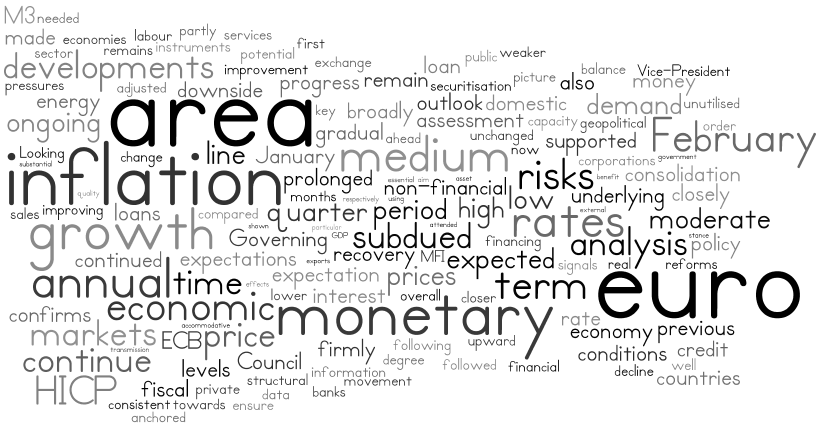 And here's last month's cloud of central bank mumbleswerve: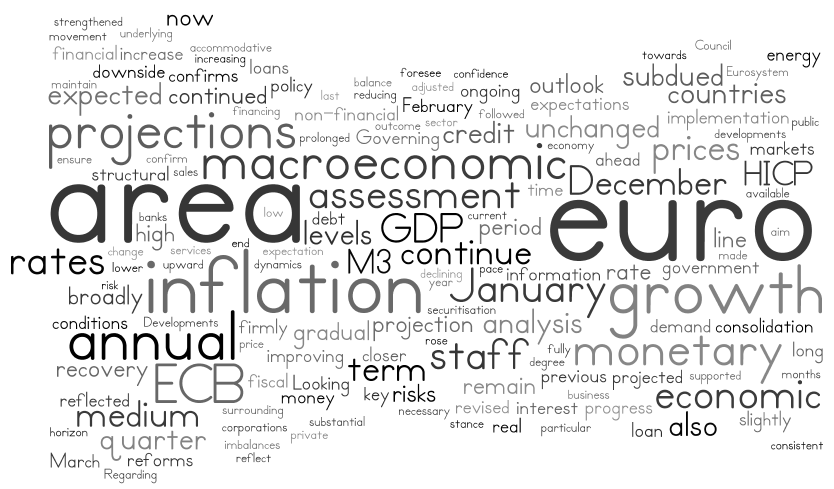 As well as evidence of where Draghi's shoes are pinching, I reckon I can detect some differences reflecting his pilgrimage during the past month.
In both Wordles, inflation looms large. Growth, however, seems to have been nudged a little lower on a relative basis, reflecting Draghi's comments yesterday that the ``protracted stagnation'' he identified as his biggest fear is becoming ``to some extent reality.''
Moreover, if you look just to the right of the word ``inflation'' in the April Wordle, you'll see the word ``prolonged.'' I've gone cross-eyed trying to see it in the March diagram even though he definitely used the word last month.
I plan to attribute that to the Wordle software being spookily aware of how often Draghi, in the question-and-answer session, returned to the theme of the central bank being ``unanimous in its commitment to using also unconventional instruments within its mandate in order to cope effectively with the risk of a too-prolonged period of inflation.''
The bombshell in the Q&A was the twinned confession that quantitative easing is no longer taboo, and that deflation isn't a necessary condition for the ECB to lace up its bond-buying boots. The apparent vow of silence taken by the governing council in March was abandoned in yesterday's ``very rich'' discussion, Draghi revealed.
What spurred the conversion? Draghi was refreshingly blunt, for a central banker, conceding that figures showing consumer prices rose by just 0.5 percent in March ``came as a genuine surprise.''
So Draghi is genuflecting, though his hands are in his pockets. With apologies to Shakespeare, his words fly up, his actions remain below, and words without actions never to heaven go.

To contact the author of this article: Mark Gilbert at magilbert@bloomberg.net

To contact the editor responsible for this article: James Greiff at jgreiff@bloomberg.net
To contact the author on this story:
Mark Gilbert at magilbert@bloomberg.net
To contact the editor on this story:
James Greiff at jgreiff@bloomberg.net