The plague has broken and I can breathe again. Here is what I'm reading this morning:
• U.S. Equity Investors Ignore Warning Signs (FT)
• Why Choose Stocks When Saving for Retirement? (Fidelity) but see Passive vs. Active Investing: Darts, Monkeys and Pros (Investing Caffeine)
• Gold loses luster as broader market fears fade (WSJ)
• Caterpillar Escaped $2.4 Billion Tax With Swiss Maneuver (Bloomberg)
• Here Come the Pitchforks in China: The Comrades Start Busting the Kleptocrats (David Stockman's Contra Corner)
• How Gmail Happened: The Inside Story of Its Launch 10 Years Ago Today (Time)
• High Altitude: Stock Market Trends as Realistic Mountain Ranges (Information Aesthetics)
• Box, Microsoft and the Next Enterprise Platform (stratēchery) see also The Day Microsoft Gave Up World Domination and Settled for Relevance (Waffle)
• Bugatti: The Marriage of Art and the Automobile (WSJ)
• How Michael Jackson Made $1 Billion Since His Death (Billboard)
What are you reading?
New NASDAQ Companies Are Older, Fewer and Bigger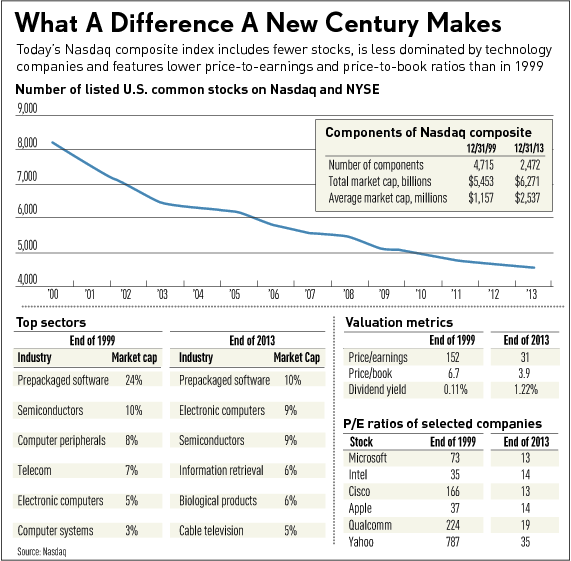 This column does not necessarily reflect the opinion of Bloomberg View's editorial board or Bloomberg LP, its owners and investors.
(Barry Ritholtz writes about finance, the economy and the business world for Bloomberg View. Follow him on Twitter @Ritholtz.)
To contact the author on this story:
Barry L Ritholtz at britholtz3@bloomberg.net