Monday, we meet again. My bubonic plague is improving somewhat, enough that I can bring you these reads:
• How to Invest $25 Million (Penta) see also Should financial advice really cost $9 million? Some well-off investors are beginning to wonder (WSJ)
• The Modern View of the Stock Market (Morningstar)
• U.S. swimming in oil (Futures)
• Parsing Surprise Decline In Rates (WSJ)
• The capex call (FT Alphaville)
• Flows Don't Follow Value, They Follow Performance (Reformed Broker)
• Worth a re-read: A Union That Doesn't Want Wages? (Priceonomics)
• Sorry, But There's No 'Law Of Capitalism' That You Have To Pay Employees As Little As Possible (Business Insider)
• Why We Got Fatter During The Fat-Free Food Boom (NPR)
• The book Scientology spent 27 years trying to ban (NY Post)
What are you reading?
Sector Rotation in March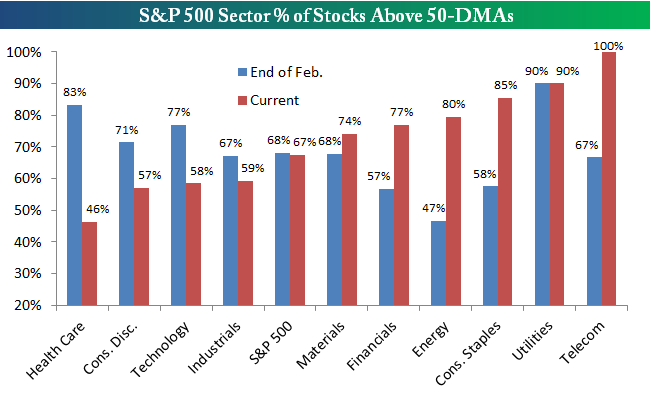 This column does not necessarily reflect the opinion of Bloomberg View's editorial board or Bloomberg LP, its owners and investors.
To contact the author on this story:
Barry L Ritholtz at britholtz3@bloomberg.net
To contact the editor on this story:
Zara Kessler at zkessler@bloomberg.net