Happy Pi Day! Some reads to finish up the workweek:
• Thursday's Selloff, by the Numbers (MoneyBeat) see also Funny: Why Did the Stock Market Sell Off? (Reformed Broker)
• The Best 401(k)s Set a Higher Bar for Others (NY Times)
• U.S. Criticized for Lack of Action on Mortgage Fraud (DealBook) see also New Suit Alleges Wells Has a Manual for Mass Fabrication of Foreclosure Documents (Naked Capitalism)
• Bitcoin's Evolution Toward Self-Destruction (New Economic Perspectives)
• The Future of Robotics Is Soft and Squishy (Quartz)
• Snowstorm Spawns Most Hilariously Comprehensive Forecast Ever (Wired)
• Offering More Than Luxury, Supercars Draw a Crowd of Makers and Buyers (NY Times)
• Sid Ceaser: How the Remote Control Ruined Everything (The Wrap)
• We Now Know More About the Economics of Prostitution Than Ever (WonkBlog)
• Here Are 20 Essential Facts Dog Lovers Must Always Remember. The Last One Made Me Cry So Much. (Reshare Worthy) see also Every Dog Has Its Data (Well)
What's up this weekend?
Wall Street Bonuses Were the Third Highest on Record in 2013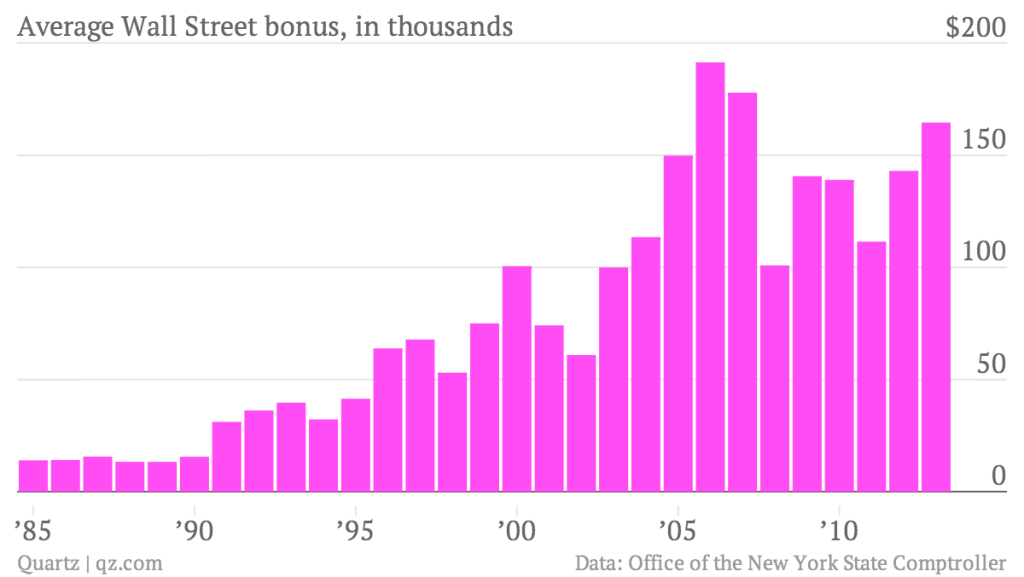 This column does not necessarily reflect the opinion of Bloomberg View's editorial board or Bloomberg LP, its owners and investors.
(Barry Ritholtz writes about finance, the economy and the business world for Bloomberg View. Follow him on Twitter @Ritholtz.)
To contact the author on this story:
Barry L Ritholtz at britholtz3@bloomberg.net