My morning train reading:
• Lessons From the Bull Market (WSJ) see also Wall Street on Lookout for Signs of Market Top (USA Today)
• A Man and His Signals (Reformed Broker)
• New Hedge Funds Face Life or Death Battle for Funding (FT)
• Have Researchers Uncovered Buffett's Secret? (Advisor Perspectives)
• Apple Faces Life as a Mature Company (Knowledge@Wharton) see also Six Months After Launch, Apple's iTunes Radio Already More Popular Than Spotify (Apple Insider)
• Drones Will Cause an Upheaval of Society Like We Haven't Seen in 700 years (Quartz)
• My Life as a Retail Worker: Nasty, Brutish and Poor (The Atlantic)
• A Dispassionate Analysis of the Employment Situation (CFA Institute)
• Malcolm Gladwell Debunked: Practice May Not Be the Main Key to Success (Salon)
• Explosive, Daring Cosmos Just Launched a New Crusade for Science (Wired)
What are you reading?
A Relentless Widening of Disparity in Wealth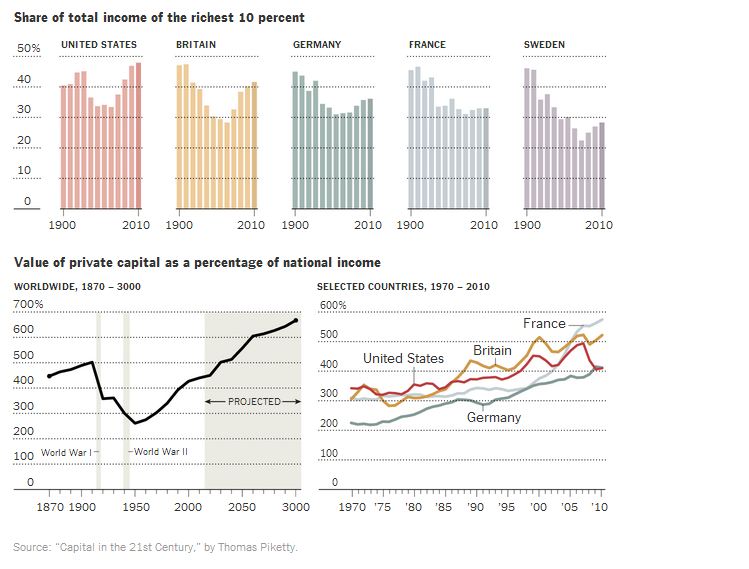 This column does not necessarily reflect the opinion of Bloomberg View's editorial board or Bloomberg LP, its owners and investors.
(Barry Ritholtz writes about finance, the economy and the business world for Bloomberg View. Follow him on Twitter @Ritholtz.)
To contact the author on this story:
Barry L Ritholtz at britholtz3@bloomberg.net