Good morning. Here's what I'm reading to kick-off my Tuesday:
• Bull Market Rivals '90s at Half Valuation as Demand Broadens (Bloomberg) but see also Bull Market Looks Good, but Beware Ides of March (Barron's)
• 401(k)s aren't the problem. You Are. (Washington Post)
• The "Easy Money" Myth (Reformed Broker)
• Why Do Options Prices Predict Stock Returns? (SSRN)
• Hilsenrath Analysis: Fed Likely to Continue Taper, Consider Changing Forward Guidance (Real Time Economics)
• NYSE, Nasdaq Join to Push for Trading Rule (WSJ)
• Digital Hub 2.0 (stratēchery)
• "The Upshot" Is NYTs' Replacement for Silver's FiveThirtyEight (Quartz)
• 10 Things the Gun Industry Won't Tell You (MarketWatch)
• What Your Favorite Music Says About You and How It Can Improve Your Life (Time)
What are you reading?
Silicon Valley: 2014 is not 1999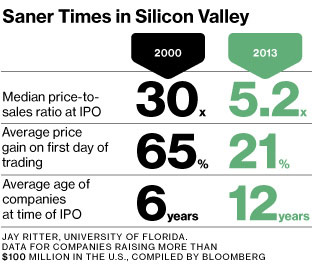 This column does not necessarily reflect the opinion of Bloomberg View's editorial board or Bloomberg LP, its owners and investors.
(Barry Ritholtz writes about finance, the economy and the business world for Bloomberg View. Follow him on Twitter @Ritholtz.)
To contact the author on this story:
Barry L Ritholtz at britholtz3@bloomberg.net