My midweek morning reading:
• The Unlikely Tale of How ARM Came to Rule the World (Businessweek)
• Gold Is Up 12 Percent: Has a New Bull Market Begun? (Barron's)
• What Alan Greenspan Has Learned Since 2008 (Harvard Business Review)
• The Best Part of the Housing Price Recovery May Be Over (WonkBlog) see also America's Hottest Housing Market Has Suddenly Cooled Down (Real Time Economics)
• Why Machine Learning and Big Data Need Behavioral Economists (Robot Economics)
• The Kingpin at Rest by Alma Guillermoprieto (New York Review of Books)
• Truth and a Prize Emerge From Lies About Hoffman (NY Times)
• The Drying of the West (Business Insider)
• Punk'd!? Is the @GSElevator Mystery Really Solved? (NY Mag)
• Jerky Boys: Behind the Prank Calls That Changed Comedy (Rolling Stone)
What are you reading?
College Degrees Awarded, By Institution Type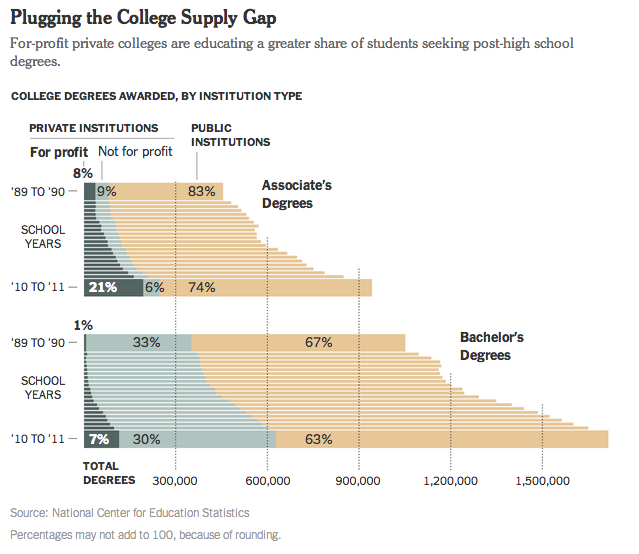 This column does not necessarily reflect the opinion of Bloomberg View's editorial board or Bloomberg LP, its owners and investors.
(Barry Ritholtz writes about finance, the economy and the business world for Bloomberg View. Follow him on Twitter @Ritholtz.)
To contact the author on this story:
Barry L Ritholtz at britholtz3@bloomberg.net