My morning reads:
• @GSElevator "We are pleased to report that official ban on talking in elevators will be lifted immediately." (Dealbook)
• What Kind of Investor Are You? (Washington Post) see also People Who Cannot Accurately Forecast Markets (Reformed Broker)
• Biotech: Popping the Allegations of a Bubble (Compounding My Interests)
• Geithner Among Fed Losers in 2008, Dudley Among Winners (Real Time Economics)
• Buffett's Annual Letter: Learn From My Real Estate Investments (Fortune) see also Buffett Warns of Liquidity Curse, Celebrates Property Bet (Bloomberg)
• Gross vs. El-Erian: Inside the Showdown Atop the World's Biggest Bond Firm (WSJ)
• The Social Conglomerate (stratēchery) see also Messaging: Mobile's Killer App (stratēchery)
• Lessons From the Recovery Act (Economix)
• Whole Foods: America's Temple of Pseudoscience (Daily Beast)
• The Smartphone App Wars Are Over, and Apple Won (TechLand) see also Why Are Games Like 'Flappy Bird' So Addictive? How the Best Smartphone Games Rope You In (WSJ)
What are you reading?
Japan Inflation Rates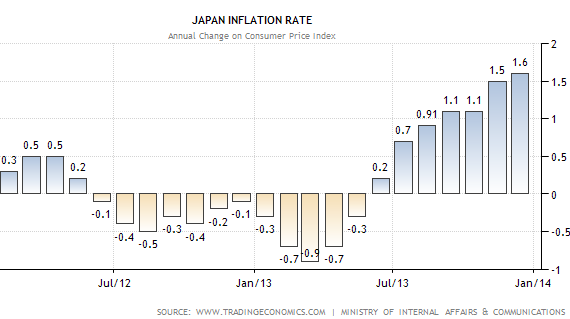 This column does not necessarily reflect the opinion of Bloomberg View's editorial board or Bloomberg LP, its owners and investors.
(Barry Ritholtz writes about finance, the economy and the business world for Bloomberg View. Follow him on Twitter @Ritholtz.)
To contact the author on this story:
Barry L Ritholtz at britholtz3@bloomberg.net